The Zach Fest Community Concert at The Fox Theatre, RWC: April 2024
"Why" The Zach Fest? A Father's Perspective...
Here we GO! Gearing up for ZF2 on April 8 at the Big Fox in Redwood City , I've come to reflect on and draw energy from the main "causes" worth working toward(being to provide 40,000 meals to the local community through Second Harvest Food Bank of Silicon Valley) the daunting task of raising this music-driven celebration(the concert itself) up from being an event that memorializes my son Zach(as was the inaugural Zach Fest in 2022) into an event that represents both his love for the live music performances by original bands and as a musician himself and his decided desire to be of service to society spurred on by his addiction recovery experience and the "12 Step Program"he gave himself to in that period.
"He who has a why to live for can bear any how." - Friedrich Nietzsche                                                                                                                                                                             Somehow the universe keeps dropping breadcrumbs to follow a path to the promised land of "Doing GOOD things". It is this positive energy and direction that has drawn a team of diversely talented people including the musicians, to the "volunteers with roles and responsibilites", the speakers, the tech experts, our stage manager, promotions director all pitch in from the depths of their souls to help move this potentially hallowed boulder up the mountain. Last year was different. From that experience, which was great, I learned a lot. Perhaps the most important thing is to keep moving forward, in spite of the fear of rejection. My gaze and energy are set on success!
One thing is certain -                                                                                                                                                                                                                                                                                              The Zach Fest Team has raised the bar as far as organization and planning. We have regular Zoom meetings and the tools are constantly being sharpened. These folks have come in, embraced my vision and helped me to focus on the "why" that has never before been so clear. As I stated earlier, I am deeply indebted to all of the volunteers. So much so that the only thing that keeps me up night now is wishing for a successful event(well, "losing my ass" again occurs only about once per week!) so we all, audience included, know that our willingness to come together for the benefit of those in need are what a forward society does. Full stop. That we have great music performed in a beautiful historic theater(1927) is just the icing on the cake!
The Long Haul -                                                                                                                                                                                                                                                                                                            In February of 2021, shortly after his passing in December of 2020, I had conducted a fairly large Zoom gathering, comprised mostly of Zach's friends and acquaintances that I gleaned from his Facebook page. It was my wish then to be of some comfort to those in grief about the loss of, as they said, "another good one gone". That Zoom call, in the middle of the pandemic which had isolated so many recovering addicts that were on the brink, brought some relief to them(Ihope) and to my own shock as a parent, father, fellow musician and one who loved Zach for every minute of his life(he knew this as one would keep a $100 bill stashed in the wallet for a rainy day). While I'm not Zach's only parent  who loved him, I can only speak to Zach's inspiration in my own life, which still keeps me reaching for that which I believe in. Zach understood this by example, particularly on those nights in Berkeley and out in the Valley when no one came out to see our band and I had to pay out of my pocket to pay at least "something" to the other musicians - everyone except for Zach because he knew we were actually in this together, for the long haul. On those "good money gigs" I put Zach in charge of dividing the money. He always took it seriously, especially being the youngest member in the band.
I told the attendees in the aforementioned Zoom Meeting was that I wasn't going to let Zach be forgotten. His memory dusted over. Of course, this was coming from a grieving father who, at that moment, didn't take into account that in that way of thinking I was selling  Zach as a man, as a contributing and evolving human, a passionate person, a gifted academic, a solid friend, as an incredibly creative musician/artist woefully short. In some ways I feel I am putting my hand out to other parents who have tragically lost their own children. The club no one wishes to belong to. This is the hand I've been dealt so let's play it and make it count!
Music, Service and Health - The 400 Meter Community Challenge: April 15, 2023 at Terremere Field, Sequioia High School in Redwood City                                                     This Second Annual Zach Fest Memorial Concert with the four bands, Sons of The Soul Survivers, Emad Bonakdar, Sweet HayaH and my own "World Blues" with A.J. Joyce(who played with Zach over the years), Ronnie Smith, Baxter Robertson and Nancy Wright are going to bring that musical element Zach would be so proud to see. The speakers, who will share their knowledge and experiences on the subjects of Addiction Recovery and Health and Wellness in between the band performances, making the turnover of value and relates to my belief that addiction runs through society like the storms we've been experiencing here in California. Meaning: Addiction touches everyone, including those who are knowingly loved and cherished. Addiction doesn't care who or where you come from!
The transparent fundraising efforts will also include an Online Raffle where we will be giving away guitars and original artwork(need not be present to enter). Overall this and affiliated events contribute to life affirming activities on the 8th will be followed one week later by the Zach Fest 400 Meter Community Challenge taking place the morning of April 15th at the Sequoia High School Track at 8am. It will be a "pledge-style event" and we will post the details shortly.
 In Closing -                                                                                                                                                                                                                                                                                                                   As we get closer to the concert event I hope that day by day I sleep better and better! Those of you who will be in attendance are in for something very, very special! Those of you who can't make it can still contribute to the fundraising effort by clicking on the Donation Button or link, whichever you choose to utilize. We will appreciate the contribution! - Garrick Davis
Donations to establish Zach's Cares as a Nonprofit are welcome and appreciated! This will provide more funding opportunities for 2023-24!
Second Annual Zach Fest: Promo Clip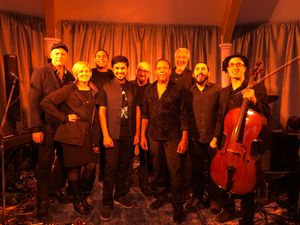 Local TV Coverage for 2022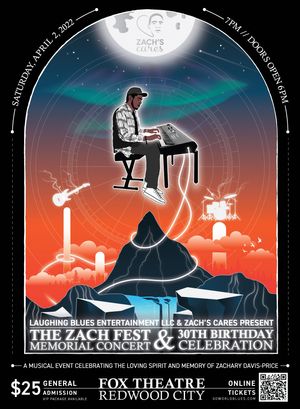 The Inaugural Zach Fest 2022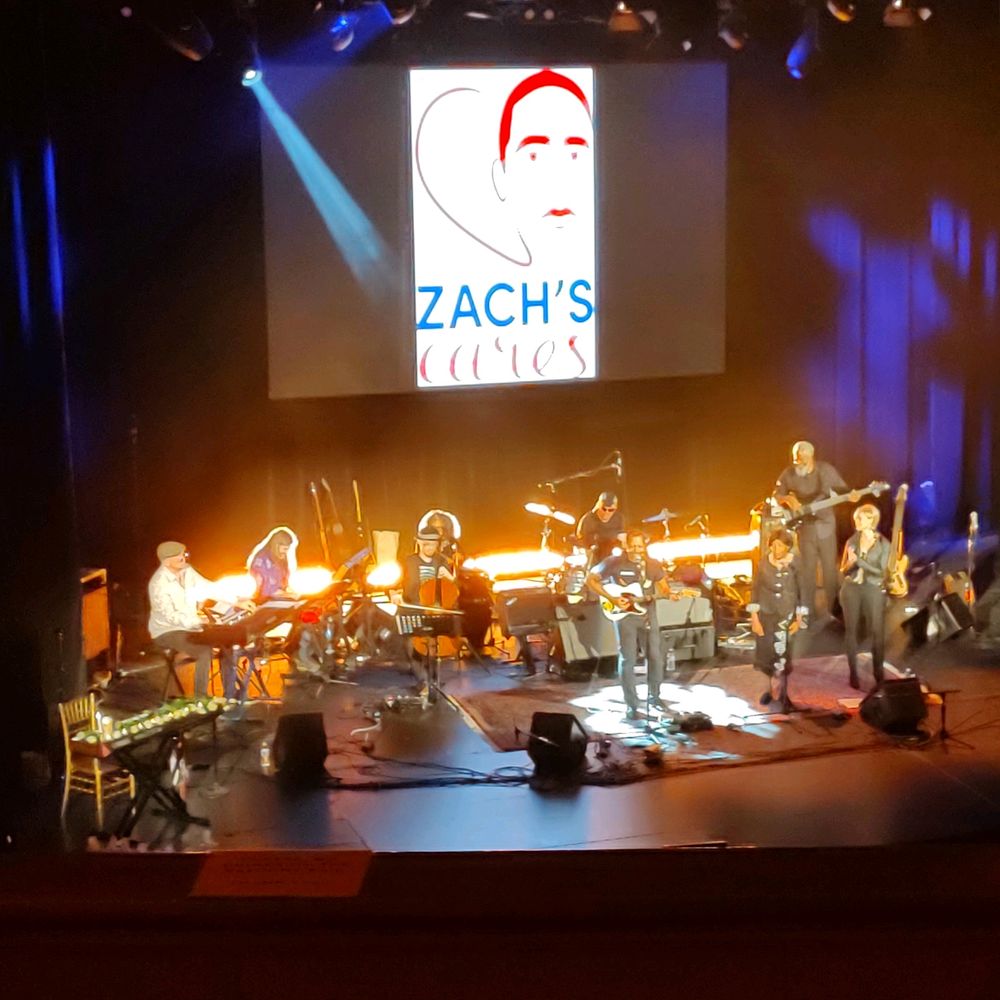 Last Year: The First Annual Zach Fest & 30th Birthday Celebration April 2, 2022
The closing set with a stage full of world blues musicians!
Thank you again to all who came to the Fox Theatre in Redwood City last year to support turning the flood of loss into a reality of celebration, music and community! That means "everyone", including the audience, the  bands "Rebels(revisited), Skip The Needle and Garrick Davis World Blues (both acoustic and electric) the stage crew, Bay Area media and the Fox Theatre crew itself.
We learned a lot last year. This year, April 8 we have an opportunity to go further toward making an impact on the community beyond what will be a memorable concert event donating to Second Harvest Food Bank of Silicon Valley and finally establishing "Zach's Cares" as a 501(c)3 organization.